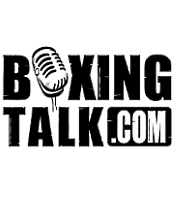 From press release
Cestus Management's Mighty Mike Arnaoutis is set to return to ShoBox on Friday, October 22, to face Jesse Feliciano in the evening's main event.  Arnaoutis, coming off a draw against Juan Urango on August 5th, is preparing to give the boxing world another look at his skills in a bout for a minor title in the 140 pound division.
Arnaoutis, coming off a draw against Juan Urango on August 5th, is preparing to give the boxing world another look at his skills.  Training and sparring hard is just part of the job for Mighty Mike, and the youngster is confident that his hard work will pay off again, and that this time he will be justly rewarded.  
"Every day I work in the gym is one day closer to beating my opponent and moving on to the next fight," says the determined Arnaoutis.  "I am 10-0-2 right now, and I should be 11-0-1.  It doesn't matter, though, because no matter what my record is I am the same fighter and I will win in October just like I did before.   I want to say to all the boxing fans that I appreciate all the talk there has been about me, and I will not disappoint.  Urango was the first, Feliciano will be the second, and after that there will be many more."
At 12-2-2, Feliciano has already garnered a reputation as a hungry, exciting young fighter who's been avoided by many of the division's high-profile names.  He fought to a draw with undefeated Arturo Morales in early 2003, and then upset Jermane Marks, another undefeated fighter, later in that year.  In 2004, he fought to another draw, this time against the undefeated Al "Speedy" Gonzales, in a fight many observers felt Feliciano did enough to win.  Most recently, Feliciano sustained a defeat at the hands of 2000 Olympic Gold Medallist Mohammad Abdullaev, in a bout that saw both men in serious trouble at different times.  
Although Feliciano is expected to present a stiff challenge, Mighty Mike's handlers are confident in their young charge. 
"Look, Mighty Mike has twelve fights under his belt," says advisor Mike Michael.  "Twelve fights.  And if I told you how many times we've been turned down for this fight, you'd think I was crazy.  And these are guy with twenty, twenty-five fights turning us down flat.   They saw the Urango fight, and they're thinking, 'this kid beat Urango, we don't want to fight him, he's going to beat my kid.'  And I can't argue with them, because Mighty Mike will beat their kids.  Feliciano is another kid that no one wants to fight.   And when we beat him 'not if, but when' then we'll start going after these guys all over again.  If they want us to go away, one of their guys is going to have to step up and beat us.  And frankly, I think that's an impossibility."