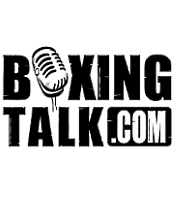 On Friday January 27th, emanating from the Tropicana Casino, in Atlantic City, New Jersey undefeated junior welter weight sensation "Mighty" Mike Arnaoutis makes his pay per view debut when he faces fellow un beaten Marc "The Beast" Thompson. This battle of undefeated prize fighters is part of the supporting cast in theGuilty Boxing-Silverhawk-Star Boxing, pay per view showcase titled Collision Course, Night of the Champions. The main event pits former light heavyweight king Virgil Hill versus Valery Brudov for the vacant, WBA cruiser weight title. Boxing talk had a chance to catch up with the unblemished Arnaoutis so he can give us his thoughts on his up coming fight and his future plans to oust current WBO champion Miguel Cotto.
 "I feel great, Christmas was fun and New Years was nice and now it's back to business. I'm really excited at the chance to be fighting on pay per view and also at the opportunity to be on a card that is loaded with so many other good fighters," said Arnaoutis.
 Thompson brings a record of 14-0 into this 140 pound match up. Thompson is a Topeka, Kansas based junior welterweight who has a big punch reputation having12 wins coming by knockout. However it should be noted that the caliber of opposition is nothing to gloat over. It is with out question that when he faces the 15-0 Arnaoutis it will be his steepest test. Thompson will try to wrest the NABO junior welterweight strap from Arnaoutis, who along with this title resides as the #2 ranked 140 pounder by the WBO. Thompson will try to fair better than Arnaoutis' last opponent Jose Leo Moreno.
 Arnaoutis is making his first appearance of 2006, but the last time "Mighty" Mike saw action was against then 12-0, Moreno on December 9th. Moreno remained with a perfect record for about 2:00 minutes after the opening bell. Arnaoutis made short work of Moreno with a devastating 1st round knockout. Arnaoutis has similar plans for "The Beast".
 "On my last time out, I really can't grade myself, but I went out and did what I wanted to do, I was obviously happy with the way things turned out. I think I also gave the fans what they paid money to see and that was a devastating knockout," said Arnaoutis.
 Arnaoutis might be his own worst critic. He says that not being content and complacent with his performances keeps him focused and motivated to improve. Arnaoutis readily admits that he was bothered by the way he performed when he struggled against late substitute Roberto Santa Cruz, in February of 2005. Keep in mind Arnaoutis won a majority decision and recorded a 1st round knockdown of the tough Mexican. This will also be a home coming for Arnaoutis of some sort as the Greek has made New Jersey his home since his relocation to the United States.  
 "That fight (Santa Cruz) made me realize not to take anyone lightly. I had the man hurt and out in the first round and I should have taken him out. That was the first and the last time that I will make a mistake like that. I could have made it a much shorter night," said Arnaoutis.
 "Every day I go to the gym I improve and work hard on getting better," said Arnaoutis.  
 "We are not looking past him (Thompson), he is not a bum but we are just on a different level that's all. He's going to get beat and it is what it is, this is no disrespect to our opponent," said Cestus Managements spokes person Mike Michaels.
 Arnaoutis seems to have been on the boxing radar for longer than his 17 pro fights. Fans have been able to see the development of this talented 26 year old unfold in front of them, Arnaoutis has been a staple of the Showtime boxing series "Shobox." Latino audiences have also been exposed to "Mighty" Mike with cameos on ESPN Deportes and on the Telemundo network.
 "Featuring "Mighty" Mike on different stations is all part of the grooming of our future world champion. We want everyone to know who Mike is in all markets and all languages," stated Michaels. 
 "If you look at the opponents that we have been taking no one is fighting these guys. Marteze Logan is a tough man and Mike beat him rather easily. Logan recently beat an undefeated and heralded Americo Santos. Logan is now slated to fight Vivian Harris in his comeback fight," said Michaels.
 "Mike is taking on real fighters with real records. This will be our third unbeaten fighter we are taking on; no one in Mike's class is fighting the caliber of opponents that we are fighting. We are also fighting legitimate junior welterweights," said Michaels.
 If Arnaoutis is successful on January 27th Cestus Management has their eyes on bigger things and have their eyes dead set on current WBO world champion Puerto Rico's shining star Miguel Cotto. All the rankings seem to point that this clash is inevitable. Junior Witter is currently ranked #1 by the WBO and is the next on the totem poll. However Witter is also simultaneously the top contender for the WBC crown held by pound per pound Picasso "Pretty Boy" Floyd Mayweather Jr.  It is not likely that Witter will shun away way from a more lucrative pay day by choosing to fight Cotto rather than Mayweather. An even possible match up against geographical rival Ricky "The Hitman" Hatton also seems logical.
 "When the time comes Mike will whip Cotto's ass! Mike is better than him. Cotto is a very one dimensional fighter", said Mike Michaels.
 "This is a fight that I feel can be made this year. I know Mike can beat him hands down. Cotto is a lot slower, and a predictable plotting fighter. He has no ring generalship and his power is over rated. He is strong but not a big puncher. I actually see Cotto regressing as a fighter. He does not have enough tools to stay on top for very long," said Michaels.
 "Mike is improving with every fight he has. He has the hand speed, the chin, the durability and basically all of the ingredients for a world champion. Not just a world champion but one of the best in the sport," said Michaels.
 "Miguel Cotto we are coming to get you. We are not saying that you are not a good fighter, but your time has come. We are coming to get you. We are saying we are better. No one has ever come to get him, we are," said Michaels.
This pay per view showcase can be ordered for the price of $24.95. Also appearing on this card will be hard hitting Nate "The Galaxy Warrior" Campbell, and former world champion Stevie Johnson. Tickets are still available if you wish to catch this in person by calling 1(800) 526-2935.  
BoxingTalk would like to thank "Mighty" Mike Arnaoutis and his advisor Mike Michaels for their time and would like to wish them continued success in the future
Send questions and comments to: sprjr21@yahoo.com