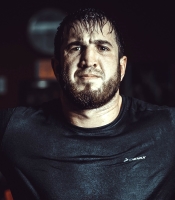 Davtaev targeting Charles Martin, Pulev, Kownacki, focused on next bout
Greg Leon: How is everything going in preparation for your September 19th bout vs Daniel Martz? AD: Training is going great I am in Vegas at training camp. My opponent will be Daniel Martz GL: What do you know about him as a fighter? Have you seen him at all? AD: I know he is experienced another step for me towards the heavyweight world title
GL: You're 30 years old now, when will you get a fight that will really catch the American public's attention, the kind of fight that will propel you to the next level?
AD: I trained in the US for more then a year after this fight I hope to have a significant one in the US. The Heavyweight division is wide open and I can't wait to make my mark!
GL: Who do you feel would be the best fight for you to take that one giant step towards a title fight?
AD: I would like a fight with Charles Martin, Kurbat Pulev, Adam Kownacki anyone in top 10.
GL: What do you feel like you've improved on the most over the last year?
AD: My over all abilities jab, foot work , controlling distance. I trained with Sugar Hill for more then a year and he definitely improved me as a fighter all around.
GL: Who do you like in the Ruiz-Joshua rematch?
AD: good fight I think Joshua can win the rematch but you never know.
GL: Will Visner go the distance?
AD: I am training to go the distance but want the knockout.
GL: Closing thoughts for the fans?
AD: I look forward to September 19th!
Send questions and comments to: boxingtalkg@yahoo.com