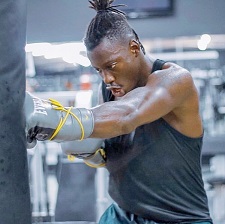 Greg Leon: What's good brother? When can we expect you back in the ring? Why haven't you fought in over a year? Antonio Tarver Jr: "You can expect me back in the ring on May 25th in Daytona Beach, Florida at Ocean Center. That's my hometown and where I grew up at, so I'm happy to be back home and show off my talents and my skills. I've been out of the ring for a year now and before that I was out for a while because I got into a bad car accident on St. Patrick's Day 2017 and it took me a while to get back. My last fight was in March (2018) and I'm just happy to be back on May 25th."
GL: What kind of injuries did you suffer in the car accident?
AT: "Nothing major, but when you get into an accident and your car gets totaled like that you have doubts and if you're going to be able to come back as sharp as I was. My back was really tight and I couldn't even work out for like six or seven months and that's why it took so long to get back in the ring. It was pretty bad, my car got totaled and I never put anything on social media about it because I'm not that type of guy. I don't want nobody to feel sorry for me and now I'm back by God's grace and ready to show the world that I'm one of the best junior middleweights out there."
GL: Why hasn't any major promoter stepped up to secure you to a long term deal? Do you think they're writing you off thinking you're too old at 31?
AT: "For sure. They say 31 is an old age in boxing, but I started late. I started at 19 years old and, so my body doesn't have the wear and tear of other guys. I didn't have a long amateur career. I haven't taken any beatings and I've got the pedigree. I've got the experience in my corner, my dad is a five time world champion and the master trainer Jimmy Williams, may he rest in peace, just passed away and he trained tons of world champions. I have Sherman Henderson also in my corner and I've got my experience in my corner and I'm a good listener. I want my shot, I need my shot to show my skills. If they got any prospects out there and give me eight weeks to get ready for a fight, I want all the smoke. I'm not ducking or shying away from no smoke right now. It's hard man, I'm working damn near 40 hours a week right now and I'm training on top of that. I just want my shot to showcase my talent like everybody else. I want somebody to take a chance, give me some time to get prepared and we can get any fights done."
GL: Thus far your level of opposition has been less than stellar. Are you ready and willing to take a step up in opposition immediately?
AT: "Definitely. Right now we've got the fight set for May 25th at Daytona Beach in the Ocean Center. Then after that I'm looking to step up to eight rounds and test myself. Just give me my eight weeks and I'll be good. I kind of want to move on the fast track. I don't want to rush it, but I do believe in my skills and I do believe that in two years time I'll be in a position to get my title shot or fighting to become the top contender. I'm just looking to stay busy and have 10 fights by the end of this year and then going into 2020 I'll be ready to do what I've got to do. I'm an exciting fighter, I've got power, I'm slick and I haven't been able to show that yet, but when I'm tested I will."
GL: But are you, as your father would say, dressed down in defense?
AT: (laughs) "Most definitely. Defense is an art and you've to understand what you're doing and why you're doing it. This is something Jimmy Williams always taught me, my dad and every other guy that he trained. It's defense first and self preservation, and that's why I don't care about who I'm fighting, it's just a body to me, just somebody for me to be able to show off my skills and talent againt. I'm ready to take all the smoke and I don't got no time to waste."
GL: Who do you like in Jarrett Hurd vs. Julian Williams?
AT: "That's a good one there. Jarrett Hurd is a busy fighter man, he comes in shape, he lets his hands go and he's got a good jab. J-Rock got that grit and a good jab and he's good in between rounds too. I don't think he lost many rounds outside the Charlo fight, but I'm going to go with Jarrett Hurd on this one."
GL: What about Tony Harrison- Jermell Charlo II?
AT: "Charlo's strong. He's a strong fighter and I think in the last fight he didn't put his combinations together enough. Tony Harrison kept him at bay with his jab and subtle movements. I think Tony Harrison could give him a lot of problems again if Charlo doesn't make any changes. Charlo has to put that early pressure on him early to get him later, but I think it's a 50-50 fight though."
GL: Closing thoughts for the fans?
AT: "It's T2 all day, I've got my shirts coming out soon and I'm just happy to be getting back in the ring on May 25th. I'm here to take the junior middleweight division by storm and if a promoter got a young kid coming up, I want all the smoke so maybe they'll want to sign me to contract after I knock their guys out."
Send questions and comments to: Boxingtalkg@Yahoo.com