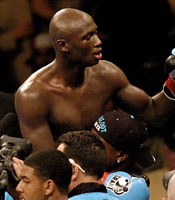 WBC light heavyweight champ Antonio "The Magic Man" Tarver has a big decision to make and there's much more to it than meets the eye. With Don King Productions winning its second consecutive Antonio Tarver purse bid for $2,711,000, one WOULD be fooling themselves by thinking Tarver and King's relationship is cozy at the present time. Speaking of cozy, many in the boxing industry feel cozy is the word best suited to describe the relationship between Tarver's new adviser Al Haymon and HBO VP Kerry Davis.
For some strange reason, fighters like Floyd Mayweather and Antonio Tarver, amongst others, seem to find television dates at HBO when they sign with Haymon.
Revision: (Mayweather's attorney John Hornewer told Boxingtalk.com that Mayweather already had a date before Al Haymon came into the picture, Mayweather turned it down because it didn't meet the standards of what he expected to make)
One prominent industry insider told BT, "this Haymon/Kerry Davis thing really smells."
Before we get to some of the long term ramifications Tarver's next move may have, Boxingtalk would like to point out the following.
Last Thursday at the WBC convention in Phuket, Thailand, Don King Productions won the purse bid for Tarver-Briggs with $2,711,000 bid. (Don King also won the Tarver-Jones II purse bid for $8,500,000. King bid nearly $2M more than any other promoter, including Roy Jones Jr.'s Square Ring Inc. and Joe DeGuardia's Star Boxing)
Tarver's take of the current purse bid is 75% or $2,032,000.
Joe DeGuardia as per his contract with Tarver, is entitled to 25% off the top (of the $2.45M he bid), roughly $500,000.
When you throw in Buddy McGirt's percentage, adviser fees, potential training expenses, settlement claims deriving from Tarver's recent bankruptcy filing and taxes, it may take a miracle for Tarver to walk away with $1M should he fight Briggs under the terms of the WBC purse-bid. 
This could put Tarver in a tight spot because he's going to have to face Briggs on a card promoted by Don King Productions if he wants to keep his WBC light heavyweight championship.
(By the way, the previous reference I made of Tarver and King's relationship not being cozy at all has everything to do with the two having a difference of opinion on a future option)
Based on Tarver's previous complimentary remarks on the WBC for unanimously ordering the immediate rematch with Roy Jones Jr., and the WBC President Jose Sulaiman calling Tarver "my best champion", it will be interesting to see how this plays out.
As much as Tarver and the WBC respect each other, Briggs is not the be all, end all option for Tarver.
Prior to King winning the purse-bid we were hearing serious rumblings that Tarver could face IBF champ Glen Johnson in a battle of the only two men to knock Roy Jones Jr. out.
Tarver-Johnson was being discussed for the still available, still up in the air December 18 HBO date.
However, that also could be a potential problem since Johnson made an agreement with the IBF when he was allowed to fight Jones, to immediately fight the winner of the IBF's elimination bout between Montell Griffin and Rico Hoye.
Johnson would have to be granted an exception in order to fight Tarver. To get his answer, Johnson will have to ante up a non-refundable $20,000.00.  
With King winning the purse bid he may now have the inside track for the December 18 HBO date, but after witnessing how strongly King reamed HBO at the Trinidad-Mayorga post fight press conference, it should be interesting to see if the "homeless" promoter even wants it there.
King, who recently hired attorney Judd Burstein to represent him, has claimed that a double standard exists at HBO in terms of how they deal with him compared to other promoters.
If Tarver were to give up his WBC belt, then the question that everyone would be asking is WHY?
One would hope that the suggestion didn't come from HBO because if it did, the ramifications could potentially be disastrous especially in light of what King feels is a concerted effort on HBO's part to treat him differently.  
Don very well may prefer KingVision or some partnership with other power players in the television industry over HBO for a Tarver-Briggs fight. (That certainly would send a message to HBO that they had better come correct with Felix Trinidad after his next, and last fight with the network)
One still can't help but wonder if Al Haymon, without the help of HBO of course, manages to suddenly find Tarver much more money for a Glen Johnson fight, prompting the light heavyweight king to vacate his WBC belt to fight for the title he willingly vacated before he first fought Roy Jones Jr.
Here's the bottom line though, if Tarver wants to make the money that he's looking for, it's obvious The Magic Show needs to step it up to heavyweight.
Roy Jones Jr. is no longer an option so there's no longer a fight at 175 pounds that warrants anywhere near the $10M purse Tarver's looking for.
Antonio Tarver "The WBA, WBC, IBF or WBO heavyweight champion of the world" can become the type of star that takes boxing to new heights, the type of star that makes $10M, or in the worst case, millions of dollars more than he makes at light heavyweight.
At light heavyweight, Tarver can make $2-3M per fight. Outside of Johnson and Briggs there isn't much out there for Tarver.
And Tarver's no idiot, he knows Don King holds most of the cards at heavyweight, especially the ones Tarver should be looking to mix it up with.
At heavyweight there's guys like Vassiliy Jirov and James Toney who aren't with Don King and hold no belts, but would give Tarver a much tougher fight than say John Ruiz or Lamon Brewster.
Antonio Tarver heavyweight champion, with his charisma, personable nature and ability to articulate himself perhaps better than any boxer in the game, can become "the new face of boxing" as Tarver has so many times stated he desires to become.
In order to get there however, Tarver has some serious decisions to make, and hopefully he makes the one that's best for his long term financial well being.
In light of King's allegations concerning HBO, one would hope that Haymon is not getting his marching orders from someone at the network. Because if he is, and Tarver relinquishes his WBC belt for the purpose of not having King involved with a promotion that will be telecast on HBO, boxing may in fact have its own Watergate in the works.
And with Burstein now on King's payroll, King may not need to start his own network after all because if anyone can get to the bottom of what's really going on, Burstein is more than qualified for this potential heavyweight showdown.
CLICK HERE FOR THE REST OF THIS MUST READ INSIDER REPORT!
Send questions and comments to: gleon@Boxingtalk.net