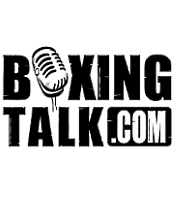 "De La Hoya Is Hopkins Promoter!"
Boxingtalk.com recently spoke with Papa Trinidad and discussed the entertaining press conference that took place in Florida two days ago. Other than the presser, Don Felix gave us his take how Tito's been training and much more. He also squashes the rumors regarding a Bernard Hopkins rematch in 2005.
GL: What can you tell us about the press conference that took place the other day?


Don Felix: The press conference that we had at Madison Square Garden, where Mayorga couldn't make it. There was a poster of Mayorga and Tito walked up to it and put his fist in the mouth of it, to kind of say, 'I'm going to shut this guy up!' And that really bothered Mayorga. The bottom line is, he was his typical self, talking a lot of trash at the press conference, saying a lot of ugly things like he always does. Tito just let it roll over shoulder because we know that come October 2, he's going to see that Tito is going to shut him up.


GL: What can you tell us about the messages they were writing on each other's posters at this press conference?


Don Felix: He said to Tito, "I heard what you did to my poster when I wasn't here. I want to see if you do that in front of me now that I'm here face to face." So Tito told him, "As a matter of fact, I'm going to do it right now since you're here. What do you think I'm afraid of you or something?" So Tito went and wrote something on his poster and then he went and wrote something on Tito's poster.


GL: How do you feel about the $100,000 bet they've made with each other?


Don Felix: This $100,000 bet situation is something that came up when we were going to Don King's office. We were going there to do some photo shoots and shoot some video for the PPV and both of them got into an arguement. Then the conversation began about the bet, and the way we feel about it is simple, Ricardo Mayorga is going to be $100,000 poorer after October 2. Ricardo Mayorga has never faced the quality of fighter like Tito Trinidad. I feel very comfortable that Tito is going to win that bet.


GL: While I was away on vacation there was alleged stories printed in which you were quoted as saying after Tito takes care of business with Mayorga and Hopkins takes care of business with De La Hoya, the rematch with Hopkins was going to take place in 2005. Is that true?


Don Felix: No. I never said anything like that.


GL: So anybody thinking the Hopkins rematch is even in discussion, let alone a done deal is sorely mistaken, correct?


Don Felix: Yes, that's correct. Bernard Hopkins knows what he has to do if he wants to make the rematch, and that's call Don King. Don King is our promoter and he makes our fights, so if they ever want to make that fight they know who to call. We have never turned a rematch with Hopkins down but it always seems that he's running away from Tito Trinidad. If he wants to do the rematch all he has to do is call Don King, because that's the man he has to speak to.


Besides, right now he has a fight with De La Hoya, and as far as I know Oscar De La Hoya is his promoter so he's got to talk to Oscar about that. De La Hoya promoted his last fight and De La Hoya will promote this fight, so I imagine he'd have to ask his promoter before he makes any moves like that.


GL: Has Tito began full blown training yet, or are you guys still easing into the work you plan to put in when you're eight weeks removed from the fight?


Don Felix: At this moment, Tito is training hard. We've been training before anything with Mayorga took place. We're working hard and he's already in good condition. Even though we've still got a lot of time before the fight Tito is in great shape and things couldn't be going any better for us right now. And come October 2, all of this hard work is going to pay off.


GL: I can't recall any Tito Trinidad fights where he's bet on himself. Some people are going to look at that and say, 'he's really confident' while others say, 'Mayorga's games are getting to him, when did Tito start making bets?' How do you view that situation?


Don Felix: We've never bet because that's not something that we do. But if this guy wants to bet we look at it as an opportunity to make $100,000 more. One thing that I would like to say, as far as Ricardo Mayorga is concerned, he's a fighter that lacks discipline. As an undisciplined fighter he does things like smoke cigarettes, drink rum and he does a lot of things that younger fighters looking to succeed in this sport should not do. In this fight, Tito is going to plant a seed to show up and coming fighters if you really want to get dedicated to this sport, you don't want to do what Ricardo Mayorga does.


MEMBERS CLICK HERE FOR MORE OF THIS EXCLUSIVE INTERVIEW
Send questions and comments to: gleon@boxingtalk.net