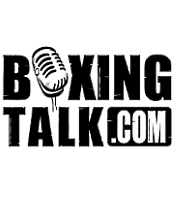 Former British Super Featherweight Champion Alex Arthur takes another step down comeback road as he defends his IBF Intercontinental belt against tough Ghanaian challenger Eric Odumase on tonight's big Sports Network card from the Royal Highland Showground in Edinburgh, Scotland. Joe Calzaghe's WBO Super Middle defense against Kabary Salem tops the bill, with Kevin Mitchell, Gary Young, Craig Lynch, Nigel Wright and others also on board. Sky TV airs the main bouts live in Britain at 10PM local time via Sky Sports One. Boxingtalk.com caught up with Alex as the talented Edinburgh native was preparing for just his second bout after losing Britain's Fight of the Year to the hard punching Michael Gomez and you won't want to miss what he had to say about getting his career back on track.
It was three days short of a year ago that the then undefeated British Super Featherweight Champion Alex Arthur ran into a locomotive by the name of Michael Gomez. Arthur was the media favorite going into the fight and was widely considered to be the "Golden Boy" of British boxing. Once the bell rang it was wall to wall action as Arthur and Gomez slugged it out over five torrid rounds in a see saw battle that proved beyond question the heart and skill of both fighters. When the smoke finally cleared, Gomez had regained his former title and Arthur's career lay in a shambles.
Most fighters never recover from such a devastating loss, but far from being finished, Arthur, 17-1 (15), wouldn't have wanted the outcome to be any different than it turned out to be. "The Gomez fight was the best thing to ever, ever happen to me," said the lanky twenty six year old, "but it was a shame that I had to show people how much heart I have in a losing effort. I'm glad I lost that fight because there was every chance that I was going to just continue on down the same route of having no trainer, no sparring partner, staying at home...etc. I was going on ego a lot and there was a big ego trip going on. It wasn't just from me, but everyone around me as well, people just assumed that when Alex Arthur stepped into the ring he was going to win by knockout. I was the best kid in Edinburgh, a city that hadn't produced a champion since Ken Buchanan and there I was. Up to that point I wasn't just beating people, I was demolishing them and then obviously the rude awakening happened. Hindsight is a fantastic thing and now I know that losing the Gomez fight was the best thing that could have happened to me."
Arthur's initial comeback fight was in March against Michael Kizza, for which Alex invested a sizable amount of finances and time in order to travel to California and work with renowned trainer Freddie Roach. Arthur was prepared to go twelve hard rounds but his opponent never made it past the first. "I was told that I had better be prepared for a fight because Kizza had been knocking out all his sparring partners in London," recalled Arthur. "I had worked with Freddie Roach and world champions while preparing so I wasn't particularly worried but I had expected a good fight. In the first round I caught the guy high on the temple and he collapsed in front of me. I was so disappointed. I had trained for a month in America, left my gal and my kid and put myself through a lot of hard work for literally one hundred and forty seconds."
"It was a good shot I caught the opponent with, though. Freddie Roach had me working on catching the hook and then throwing one as a counter and that's the shot I caught Kizza with. The guy threw the punch and I got real close, catching him with a left hook over the top that caught him right on the temple. It looked like he could have gotten back up but didn't want to. After watching the tape of the fight on two or three occasions, his legs did so the funny dance and you can't fake that. I do think though, that after he went down he could have gotten up and I was very disappointed. At the time I was gutted."
This time around Amazin' Alex, promoted by Frank Warren, has been working with trainer Jim McDonnell, who is well known for his ability to get fighters in absolute peak physical and mental condition. "More than anything in this fight on Friday I'm going to be really conscious about employing the techniques that I've been practicing with Jimmy McDonnell, and the ones I learned from Freddie Roach," said the former British champ. "If I don't look like Sugar Ray Leonard, I'm not going to be that disappointed because I've basically been out of the ring for about a year. I'm expecting a little bit of ring rust and for it to be a few rounds before I feel right again. I won't be looking for a quick knockout, but rather to get a few rounds under my belt."
Arthur's opponent tonight, Eric Odumase, 14-3-1 (7), hails from Ghana and is a former two time Commonwealth title challenger at featherweight. Odumase has only lost during competitive efforts against current WBO Feather king Scott Harrison, highly regarded Mzonke Fana and former British and Commonwealth titlist Patrick Mullings and as a result Arthur is not taking this task lightly. "I've really been focusing on this fight because I've got a very tough guy in front of me," he said. "I haven't been in a competitive boxing match for a year, really, and I can't afford any slip ups. Odumase is a short, busy guy who's aggressive. He's not a big puncher so he has to make up for it by throwing loads of punches. I'll really have to use my skills to get past this guy and move on."
Alex Arthur has been doing everything possible to prepare himself for this fight and for his future shot at redemption as he seeks to gain revenge for his only career defeat. "I'm working with a brilliant nutritionist now and she's helping me make the weight really well," enthused Arthur. "I've been at 132lbs this week and will make 130 easy. Normally when I'm in the 130lb range I'm very thin, I'm drawn and have dark circles under my eyes and that was from making the weight wrong. Now that I've got these sports scientists, strength coaches and nutritionists working with me, I look like a junior lightweight Bernard Hopkins (laughs)! It's unbelievable and I feel so much better."
"I'm really looking forward to fighting Michael Gomez again and my guess is that it'll happen sometime early next year. I think Gomez was very lucky to win his most recent fight and I was absolutely terrified at the time because the rematch is almost certain to happen. I think the game will call for it as I personally think that boxing in Britain isn't very exciting right now. I think that a rematch with Gomez is the biggest fight in Britain right now as it'll create more publicity, hype and interest than anything else on the horizon."
Boxingtalk.com would like to thank Alex Arthur, Frank Warren and Richard Maynard for making this article possible.
Send questions and comments to: thomaspointrd@aol.com