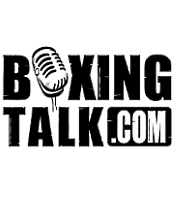 By Alex Pelletier, La Zone De Boxe
Joachim Alcine (24-0, 17 KOs) had a tougher time than he expected Saturday afternoon at the Lac Leamy Casino in Gatineau, Quebec, disposing of Venezuelan Elio Ortiz (27-8, 21 KOs). Alcine, Boxingtalk's #10 junior middleweight, admitted to taking his opponent lightly, and it showed when he was floored by a left hook in round four. However, Alcine was finally able to catch the fast-footed Ortiz (rated #20 by Boxingtalk at 147 pounds) in round ten, and a body and head combination floored his man for good.
Alcine came out aggressively, throwing frequent jabs and combos. He knocked down Ortiz with a body shot in the first round. But Alcine stopped throwing and allowed Ortiz to lead in rounds three and four, which led to his knockdown in the final seconds of the fourth frame. An Ortiz left hook took a retreating Alcine blindsided, and he lost his legs for a few seconds and he set a knee and a glove on the canvas. He got up before the count started and the bell rung a few seconds later.
Alcine kept chipping away with rapid combos at Ortiz, who shuttled across the ring. Finally in round ten, he caught him with a solid combination, and Ortiz fell on all fours, and he elected to let the referee finish his count at 1:33 of the tenth.
Former 2000 Olympian Troy Ross (13-1, 9 KO) won the vacant Canadian cruiserweight championship in great fashion on the undercard in Gatineau. Ross outgunned his rugged opponent both inside and outside, but a steady southpaw jab kept Claudio Rasco (6-2, 1 KO), a Romanian with an excessive amateur background, at a distance in the early going. But Ross handled his bigger opponent very well on the inside, and Rasco had difficulty dealing with his speed. Ross staggered his opponent in the last seconds of round four but Rasco stayed squarely on his feet. Ross showed a good defense and resisted to his opponent's last-ditch effort in round six. Finally a straight left nailed Rasco, who once again stayed on his feet but clearly hurt and the referee stopped the fight at 1:28 of round eight.
Victor Lupo improves to 8-0-1 (6 KOs) with a flashy sixth-round TKO of journeyman Verdell Smith. Lupo warmed up the crowd by showboating, and won by simply embarrassing his opponent. Smith was on the defensive from the start keeping up with his opponent, including dropping his mouthpiece twice. In the six, he was in a corner bobing and weaving under Lupo's quick flurries, when Lupo stopped throwing and just watched Smith bobbing and weaving for a few seconds. When he stopped moving, Smith got rocked by a superb right hand from Lupo, and the referee stepped in and stopped the bout.
Noriko Kariya, sister of NHL players Paul and Steve Kariya, made her pro debut, winning a four-round majority decision against Cindy Christian (1-4-1, 0 KOs).