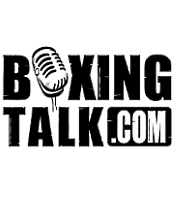 Alcine Hammers Bojorquez
By Alex Pelletier
A rugged but completely outmatched Carlos Bojorquez has stood up to the
barrage thrown at him by the unbeaten Canadian junior middleweight
contender Joachim Alcine. However, Bojorquez's brave stand ended when
his
corner wouldn't let him out for the 8th round.
After a cautious start, that Haitian-born Alcine bottled up the
swinging
attacks of the Californian-based Mexican and countered with lightning
fast
combinations, opening cuts over both eyes. The light blows Alcine threw
in
the early rounds became genuine power shots after the fourth round. He
began scoring heavy combinations at will on a game and sturdy
Bojorquez,
who was hit solidly several times and despite never appeared to be
seriously hurt, he was not able to get any kind of attack going, which
caused his corner to throw in the towel after seven rounds.
Alcine, currently ranked 6th by the WBA and 21st by BoxingTalk,
improves
his record to 22-0 (15), while Bojorquez' record now reads 23-7-6 (19).
On the undercard of this bout, held at the Casino de Montréal and
promoted
by GYM, 2004 Canadian Olympian Jean Pascal has won his second fight in
as
many weekends, this time by first round KO of Jesse Londo. The 22
year-old
former seven-time Canadian amateur champion has upgraded to 2-0 (2).
Also,
young junior-middleweight Sébastien Demers has improved to 6-0 (3) by
winning a unanimous decision against cagey journeyman Anthony Ivory.