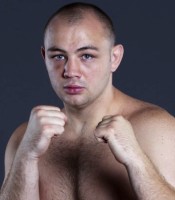 Editor's Note: this interview took place before the news that Jarrell Miller had failed a drug test prior to his scheduled June 1st challenge of WBA/WBO/IBF heavyweight champion Anthony Joshua. Adam Kownacki's name quickly surfaced as a possible replacement to challenge Joshua, but it appears Kownacki is not interested. Respected Polish boxing source Przemek Garczarczyk tweeted that Kownacki told him, ""I have my own plan. And it's not enough time to prepare for June 1st and Anthony Joshua."
Greg Leon: We haven't had you on Boxingtalk in a minute so I'm reaching out to check in. What's the latest and greatest? When can we expect you back in the ring? Adam Kownacki: "Hopefully during the summer. I'm looking forward to getting back. I just did a little meet and greet over in Poland and it was really great because the people over there love me. Hopefully that's going to be same kind of following I'm going to get out here. I think my next fight will be even better my last fight against Gerald Washington."
GL: Can you give me anything more specific than sometime over the summer?
Adam Kownacki: "No not yet."
GL: Any short list of names yet?
AK: "Not yet. I would love to fight Chris Arreola, but I don't know if that's going to happen."
GL: We've been talking abuot you being a couple of wins away from a world title for more than a couple of wins now. From a mental standpoint has it been difficult for you to stay the course when you feel you've already earned the shot?
AK: "I have a good team behind me with Keith Connolly and Al Haymon. I've been pushed well so far and just with another win or two I'll be next in line."
GL: What do you think about WBC heavyweight champion Deontay Wilder's upcoming defense against Dominic Breazeale?
AK: "I think Wilder should knock him out."
GL: Did you catch Jermaine Franklin's fight the other night?
AK: "No I didn't, but I've heard he called me out. I didn't know who he was before he called me out, but if they me that fighting him is going to bring me closer to the title fight then I'll fight him. Right now I'm ranked in the top five in more than one organization and I don't think he's ranked. I wouldn't say he's on my radar, but if they want me to fight him then why not? I don't shy away from any challenges."
GL: Closing thoughts for the fans.
AK: "I want to thank all of the fans for their support, I'll be back soon and I will be the first Polish heavyweight champion of the world."
Send questions and comments to: Boxingtalkg@Yahoo.com