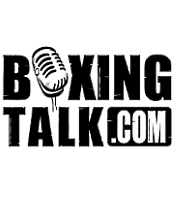 Alex Arthur believes that top trainer Jimmy McDonnell has whipped him into the best shape of his life for his IBF Intercontinental Super-Featherweight title defence on October 22 at the Royal Highland Centre in Edinburgh.
The Edinburgh golden boy takes on the tough Ghanaian Eric Odumase but he reckons McDonnell's killer workouts at the Wanstead Rugby Club in Woodford are harder than any fight he has had in his career.
"Jimmy is putting me through pure hell," Arthur said.
"I had heard rumours about how tough Jim trains his fighters and now that I have experienced it I can confirm it's everything and more!  That's the reason I decided to tear myself away from my family in Edinburgh to head down South and prepare for this fight,"
The former British Super-Featherweight king continued, "Jim's had me running up hills with tyres attached to my back by rope and pushing cars which have had me on the verge of exhaustion but I have never thought of giving in when it's got tough.  Instead it has pushed me on harder.  It's real blood, sweat and tears stuff but I want to get to the top and this is what I have to do,"
"In the gym I've had terrific sparring with Steve Murray (the former WBO Intercontinental Lightweight Champion) and Paul Halpin.  We've worked a lot on the technical side of my game as well such as moving my head after throwing a combination, improving my footwork and working more angles something which I feel I have not been doing enough of in the past,"
Arthur has also found a friend in heavyweight Danny Williams who sensationally destroyed Mike Tyson in the summer.  "Danny has been superb throughout my stay here by giving me great advice and encouragement.  He said that I have great technical skill and is impressed with my hand speed and accuracy.  The ultimate compliment was when he said I have the potential to be the best in Britain which really lifted me,"
Arthur, who won Contest of the Year at the British Boxing Board of Control Award's lunch last Sunday for his brutal fight with Michael Gomez last year, finished by saying "Overall, I think you will see a big difference in Alex Arthur from what you have seen in the past.  The sacrifice has definitely paid of and I'm in the best shape of life and I'm looking forward to putting on a great performance in front of my loyal fans on the big night."
McDonnell, a former European Featherweight Champion and two time World super-featherweight title challenger, said, "Alex has only achieved 60 per cent of his potential and it's down to him to get the other 40 per cent out which I am helping him achieve.  If he can get through this then he will be on the next level mentally and physically and will be unbeatable."
Arthur features as chief-support to the main event that features Joe Calzaghe's historic WBO World Super-Middleweight title defence against Kabary Salem - the first ever World title fight in Edinburgh.
The third title fight is for Vacant Scottish Middleweight crown to be contested by Edinburgh's Craig Lynch and Arbroath's Barry Lee.
The rest of the undercard features undefeated Edinburgh hot-shot Gary Young, Scott Forsyth, Scott Flynn, Colin Bain and Nigel Wright.
Tickets, priced at £35, £50, £75, £100, £125 are available from Keith Prowse Ticketing on: 0870 906 3839