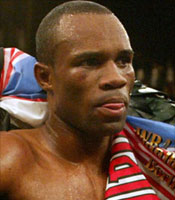 "Hatton let's do this, I want to fight, stop the games and lets fight."
"Hatton let's do this, I want to fight, stop the games and lets fight."
"In response to all the things British promoter Frank Warren and his fighter Ricky Hatton have been saying about me, and our proposed fight, I feel it's only fair to the public that they also hear my side of the story. The main point being I am willing to give Ricky Hatton a shot at my world title."
"Hatton and Warren have gone on record calling me a 'coward', 'classless' and a tirade of other insults all stemming for my unwillingness to fight under Warren's ridiculous terms, which I find unprofessional, unreasonable and disrespectful."
"Warren is using tactics that are low, even by boxing standards. I am a World Champion, I have single-handedly fought my way to the top of one of boxing's toughest divisions and I expect to be treated fairly, like the World Champion I am."
"I am willing to give Ricky Hatton a shot at my belt, the WBA championship - a real title held by a real champion. Hatton is a good fighter and has been built up well, the hype in England is phenomenal, Warren has done a great job with him. But I think they have now lost perspective of reality, I AM THE WORLD CHAMPION not Hatton."
"Warren wants me to bring my belt to Manchester, England (Hatton's hometown) and fight for much less money than the challenger. This is disrespect. He wants to treat Hatton fairly and treat me like a slave. Frank should be informed that the years of slavery are long gone."
"I have earned everything I have, nothing has been given to me in this business. Now I am on top I would love to give Hatton a shot at what's mine, but treat me like a champion - not like a washed up never-has-been, like the 'fighters' Warren has carefully delivered for Hatton throughout his entire career."
"I want to remind Hatton and Warren, that great fighters have to earn their place in history. As the challenger Hatton should be hungry enough to take his proper place, just like all the greats did. When I fought for the world championship I earned only $95,000 - peanuts but it was about the opportunity for me, I had to take what I could get to fight for the belt. The trouble is Hatton and Warren aren't hungry at all, they are wealthy and comfortable - hand picking opponents, selling out arenas against third class fighters and all of a sudden they think they can dictate to others, even world champions like myself. Greed is keeping them from delivering real superfights and at this rate Hatton will never fight a real fighter because only class C fighters will except the kind of deals they offer, when you're down and out, I guess anything looks good but I'm a world champion not a typical Hatton opponent."
"British fans deserve better and Hatton should fight some real fights. He only has one career, he should go for it, dare to be great - he may never know how good he really could have been by only fighting class B fighters. If he's scared to leave the U.K, I will fight in England, all I want is a fair deal financially."
"As a fighter I've paid my dues. Pay me more than him. Pay me like a champion not a challenger, you should be happy I'm giving you a shot at my belt and I'll even come into your backyard, I'm scared of no man but I am not going to let you pay and treat me like challenger. Typically, in a championship fight (and mandatory if a fight goes to purse bids) the champion shall receive 75% of the pot and the challenger 25%. With Ricky, I am willing to allow him to earn almost as much as I do, but the fact they are trying to get me to fight for the smaller end of the pot is insulting."
"If you can't offer me a fair deal, I'll offer you one, this is how badly I want to face Hatton. Let's let this fight happen on neutral grounds and let's let it go to purse bids. I'll even take less than the standard champions (75%) percentage just to shut up the big mouth of Hattons."
"I don't need to prove myself as much as Hatton does, anyone who looks at my record and real belt around my waist, knows I am real fighter and have never been protected. Hatton has been protected at all costs, he's looked good and is very exciting but never against fighters of my caliber. He can't do anything with me and they are just trying to look tough in the media, the truth is Hatton needs to put his heart where his mouth is."
"Warren and Hatton know I don't fight for pennies anymore, they are offering me such a bad deal - I cannot accept, and then as planned they run to the media screaming 'Coward'. When in all truth, I think it's a P.R stunt, get me to say no by offering a bad deal, then try and make yourself look like a real fighter. This is bullshit. Hatton's people are offering a second rate deal, just like Ricky has fought only second rate opponents and has won a second rate belt. Now I'm giving them a chance to step up to first class and they aren't willing too."
"I have a family to feed too, I have taken the long road to the top and I want to give Hatton a chance, but they are treating me like a challenger. Before I became the world champion, I would have fought Hatton in his backyard for pennies, that's what you have to do when you're not the top dog."
"My message to Ricky is, let's make this fight happen, don't go anywhere - be a man. My message to Warren is treat me like champion not a slave, you owe it the British public and Hatton to make a fair deal. If you're unwilling to deal fairly, the fight can easily happen in America too. My manager Emanuel Steward has people who'll pay everyone fairly, and they have already secured a better site fee than the one in England. They can also guarantee the fight to take place at British primetime, so the British TV networks would be happy. I want this fight to happen and the only reason it won't is because Warren and Hatton don't really want it to."
"All I want is a fair deal and some gloves, that's all I need to show the world how I'll destroy Ricky Hatton. Deep down Ricky knows he has nothing for me. He needs to do some sit-ups rather than bad mouth people, because I will tear his body apart."
"I'm the world champion, not Ricky, I want to fight the best and if Hatton isn't really ready then I'd rather stay in the US and fight greats like Floyd Mayweather or Kostya Tszyu. My division is packed with talent, they are all coming to try and take away my belt, I'll never turn a fight down, never have, never will and I'll always back my words up. I promise Harris vs. Hatton will be a classic battle but I want to be treated like a champion now, and again when I retain my belt. Because Ricky doesn't stand a chance and I deep down he knows it."
"Finally, Ricky I ask you man to man to make this fight happen if you're a real fighter. Don't sign to fight anyone else, I know Frank Warren will take his shovel and head back to the graveyard to find a newer, safer fight for you for October 2nd but let's make this happen. Call my manager Emanuel Steward and lets fight. The ball is in your court."
Sincerely,
Vivian Harris
WBA World Champion