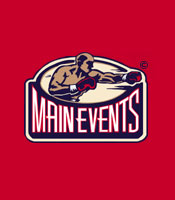 One of the most prominent artists of the 17th century was Giovanni Lorenzo. Lorenzo an Italian from Naples was responsible for some of the most historic churches, sculptures and paintings in Rome. Well I am here to write about a 25 year old from the Dominican Republic, who by total irony bares the same name. Giovanni Lorenzo is a rising and potential budding star in the junior middleweight division. Tonight as part of Lou Dibella's latest edition of Broadway Boxing, Lorenzo takes a step closer to possible stardom. Lorenzo, who is currently 18-0 with 10 wins coming by knockout, will put his undefeated record on the line when he faces fellow carabineer Chris "Shaka" Henry in scheduled 8 round bout which is contracted at 157 pounds.
Lorenzo was a member of the 2000 Dominican Olympic team which represented the country in Sydney, Australia. Lorenzo competed as a welterweight during these Olympics and finished 8th overall in his weight class. Three years ago, Lorenzo arrived in the Bronx, New York City to pursue his pro career. Since he's made his permanent residence in the United States, Lorenzo has been guided under the tutelage of attorney Kurt Emhoff and Richard Ryan. Both Ryan and Emhoff see Lorenzo as a world champion in the making. This confident but grounded native son of the Dominican Republic is eager to live up to the high expectations of his representatives and that of his own.
 "I'm here in the U.S. to carry my country and my flag high. I want to go back home like a conquering hero. My dream is to be a world champion and one of the biggest names in boxing" said Lorenzo.
Lorenzo is originally from San Cristobal, which is a city in the southern part of the Caribbean nation. According to Lorenzo his neighborhood of Jeringa was a small town, made up of simple and humble people. However he points out that what ever his childhood lacked economically his parents made up for it with love and attention. Lorenzo began boxing because as a child he was mischievous and always getting in little street scuffles as a youth.
"When you come from a poor neighborhood and you come out of it and put yourself in a better situation, people show a lot of love and support and it's a warm feeling," said Lorenzo.
"Even now I have not fully adjusted to living here; honestly it's been tough, being here in New York. I'm here essentially alone. I have family here but they are cousins and they are mostly distant cousins. I have no immediate family in New York. I mean I don't want to say that there are not people who care about me because there are. Also I do like New York, I mean other than the cold there is not much not to like about New York. But its really about just getting home sick at times, my mom and dad and brother are all back home in Santo Domingo. I try to go back and visit as often as I can," said Lorenzo.
"I have not taken advantage of all of New York's charm yet. I still don't know what the inside of a night club looks like. When its time for me to relax and my body needs a rest, I like playing dominos and I also shoot some pool. At this stage in my career I really can not afford to let myself or my mind to be distracted by night life and get caught up in too much partying. I'm focused on this profession brother my life is training and the gym and getting ready to win fights," stated Lorenzo.
The venue that Giovanni calls his gym is very safe to say that it is one of the most unusual situations. You see Giovanni may have more than just his skills to guide him through his matches but he may also be protected by a stronger more divine power. Lorenzo is trained by an ordained minister. Pastor Ralph Ferriat is the man who has been honing Giovanni's skills for the past several years. Pastor Ralph as Lorenzo refers to him trains in his fighter in a makeshift gym that dwells in the basement of his South Bronx church. Lorenzo and Ferriat's alignment maybe even stranger is that they hooked up as Lorenzo says he whipped up on one of Ferriats's former students during a sparring session. Also Ferriat is a Pentecostal cleric and Lorenzo is Catholic.
"Working with Pastor Ralph is great. We he trains amateurs but I am his only pro. With him I feel like a priority," said Lorenzo.
When Lorenzo meets the aforementioned "Shaka" Henry he will be up against a man who brings a respectable mark of 19-12 and has faced a far superior level of opposition. However the 32 year old is coming off of two straight knockout losses.
 "I really don't watch tape on my opponents. All I know is that he is tall and looks in good shape. I leave that up to my trainer. He watches video and comes up with a game plan. Although in the ring a lot of what I do is improvisation. And I really just go off of what's in front of me. I mean I treat every guy the same or at least my mentality does not change when it comes to all of my opponents. Everyone that comes in that ring is trying to take my head off, that's ok because I am coming to do the same," said Lorenzo.
"Right now I am looking to improve with every fight. I consider my self a boxer and a stylist in the ring. I feel that boxing is to hit and not to get hit. I mean I don't believe in classifying myself, I guess I will leave that up to you guys. I know I can punch. I fight according to my opponent. If anyone I fight wants to be slick I will be slicker. If anyone wants to stand there and bang than he is in trouble," said Lorenzo.
Boxingtalk would like to thank Giovanni Lorenzo for his time and cooperation and wishes him luck in the future.
Send questions and comments to: spjr21@yahoo.com