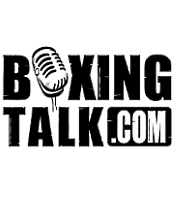 By Scott Shaffer
Floyd Mayweather did exactly what he said he would do, punishing Arturo Gatti at will and proving Gatti was not on the same skill level as the still-undefeated Mayweather. After Saturday night's dominating performance in Atlantic City, the only question left unanswered is whether there is any boxer in the world with the same skill level as Mayweather. Throughout six increasingly one-sided rounds, Mayweather tagged Gatti with combinations seemingly at will, leading Gatti's trusted trainer Buddy McGirt to stop the WBC junior welterweight title bout before round seven.  Mayweather not only won every round and every one of the eighteen minutes of action, he won every exchange of every round.  Compubox calculated that Mayweather landed four times the number of punches that Gatti did, 168-41, and they weren't just pitty-pat jabs either, as Mayweather was credited with landing 115 power punches out of the 168 total. 
After a minute or two of feeling each other out, Mayweather knocked Gatti down towards the end of the first round. The lone knockdown of the bout happened when Gatti complained to referee Earl Morton about Mayweather hitting on the break. Gatti was looking directly at Morton, who refused to issue a warning. With no stop command in effect, Mayweather stepped forward and landed a quick one-two that Gatti to the canvas. Gatti rose quickly and continued to complain, and even appeared to push the referee slightly but the knockdown was legitimate and Gatti had only himself to blame for momentarily forgetting the boxer's mantra to protect yourself at all times. Gatti wasn't hurt by the knockdown and the bell ended the round before any more punches were exchanged. 
In the second round, the pattern for the remaining five rounds quickly emerged. The lightning-quick Mayweather, who looked considerably smaller than Gatti,  was too elusive a target for Gatti's aggression and his hand speed and accuracy dominated the exchanges. Mayweather's best work was accomplished exclusive by punches thrown from the outside, a style very pleasing to the eye and easy to appreciate.  By the third round, Gatti's eye began to swell, and by the fourth, Mayweather stepped up his aggression and really laced into Gatti. The beating continued in round five, and the sixth, Gatti's legs were starting to buckle when he was hit solid combination. There were no knockdowns in the sixth, but it was so one-sided that all three judges awarded Mayweather a 10-8 round.  When McGirt signaled to Morton that the contest was over, only the staunchest of Gatti supporters could have been surprised, but the emotion they should be feeling is relief that Gatti and his warrior spirit were saved to fight another day. Mayweather, now 34-0, will now be recognized as the purest practitioner of sweet science in the post-Roy Jones era, and the term pound-for-pound Picasso will surely become a cliché when used to describe him.  Mayweather is now a three-division champion, and the only possible knock on Saturday's accomplishment is that he won a paper title compared to the legitimate world 140-pound championship Ricky Hatton won earlier this month by defeating Kostya Tszyu.  The WBC belt now around Mayweather's waist was stripped from Tszyu and virtually gifted to Gatti when he was matched against bogus mandatory contender Gianluca Branco for the vacancy.  Still, Hatton was in attendance at Boardwalk Hall and when the question was put to him, he didn't seem in any hurry to face Mayweather.
One final note about the Mayweather-Gatti promotion.  Although there was no shortage of bad blood between the boxers in the lead-up to the bout, it was refreshing to see that the race card was never played in this battle between a black and a white boxer. Similar super fights over the last quarter century, such as Larry Holmes-Gerry Cooney and Mike Tyson-Peter McNeely had racial overtones that were tacitly condoned, if not actually employed, to sell those fights. This time, there were insults and threats, but stereotypes were largely left out.  Praise goes to both boxers, the managers and promoters for keeping the pay-per-view hype out of the gutter.
Send questions and comments to: boxingratings@yahoo.com