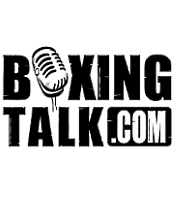 The Tropicana Hotel and Casino September 10, 2004 played host to one of the most exciting Women's Boxing Championship Bouts in many years.  The Event Title "Sister Smoke Returns" was a well matched battle between two of the best female boxers in the world.  From the opening bell it was evident that neither of the two women was going to give up much ground.
Round one saw both women see sawing back in forth trading heavy leather with Frazier-Lyde narrowly winning the first round of an exciting bout.  The second round began with both ladies again trading heavy shots, trying to take out each other.  To the crowd's amazment, Almager landed a big right hand, catching Frazier-Lyde off balance and sending "Sister Smoke" to one knee.  After looking surprised and dazed, Frazier-Lyde shook off the cob webs and survived the second round.  In round three Frazier-Lyde seemed to gain her composure and clearly landed the heavier blows pounding Almager to the body and sending her against the ropes.  The fourth round Frazier-Lyde started looking much like the third round with Frazier-Lyde again going to the body of Almager and making her cover up.  Almager in this round did have some moments, but the heavier damage went to Lyde.  The fifth round saw both Almager and Frazier-Lyde going back and forth each having their moments, but the body attack by Frazier-Lyde again seemed to win the round.  Round six was exciting but with no real fanfare, again Frazier-Lyde doing more to impress than Almager.  In round seven Almager came out looking to again try to take out Frazier-Lyde, however Lyde used good defence and came on later in the round again with a good body attack which slowed down Almager.  Almager came out in round eight again trying to land big shots on Frazier but again "Sister Smoke" used good defense and again clearly used better boxing skills to win the round.  The ninth round was a recap of the eight round with Frazier-Lyde controlling the action with body shots, good defense and holding Almager at bay and easily winning the round.
In between rounds Almager's corner screamed encouragement to her and instructed her to let it all hang out.  The result was good because the motivation saw Almager get a controversial knock down half way into the round. As a result, Almager clearly won this tenth round.  Frazier-Lyde on the other hand as well as many observers ringside, thought the knock down was more a push than actually a knock down.  Referee Eddie Cotton to quite a few fans dismay ruled it a knock down.
In a nutshell, the fight was exciting and Almager to everyone's surprise came out in looking good and had some exciting moments but didn't do enough to win the fight.
The difference in the fight was Frazier-Lyde showed extremely good offence, landing the more telling shots against a tough and game Almager.
What made this win special and historic for Jacqui Frazier-Lyde was this Heavyweight Championship Win came on the 40th Anniversary of her father, Joe Frazier winning the gold medal for the United States Olympic Boxing Team back in 1964.
By winning this Championship Bout, this puts Frazier-Lyde at the top of women's boxing by winning her fifth World Title and now owning a Heavyweight Title just as her famous father did.  This could set the stage for a rematch with Lala Ali and again look like history repeating itself, just as it did when the famous father Joe Frazier and Muhammad Ali did it back in the 70's,
The scoring for the bout was as follow, all unanimous for Jacqui Frazier-Lyde 95-93, 96-92. 97-92 the referee was Eddie Cotton.