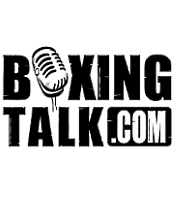 Thursday, Sept. 16, 2004, At 11 PM ET/PT
The International Boxing Federation's (IBF) No. 1-ranked light heavyweight contender, Rico Hoye, will square off in a 12-round IBF elimination bout against No. 3 contender, Montell Griffin, Thursday, Sept. 16, on the SHOWTIME boxing series, "ShoBox: The New Generation."  In the eight-round co-feature, Al Seeger will take on fellow once beaten super bantamweight contender, Eric Aiken.
SHOWTIME will televise the Gary Shaw Productions doubleheader from Kewadin Casino in Sault Ste. Marie, Mich., at 11 p.m. ET/PT*. The telecast represents the 51st in the popular "ShoBox" series, which debuted on SHOWTIME in July 2001.
Hoye (17-0, 14 KOs), of Detroit, captured the vacant International Boxing Association (IBA) Continental 175-pound crown with a 12-round decision over Prince Badi Ajamu June 5, 2003, on "ShoBox."  Four months later on Oct. 11, 2003, Hoye added the North American Boxing Organization (NABO) belt by scoring a second-round TKO over Etianne Whitaker in Auburn Hills, Mich. 
On March 18, 2004, Hoye expanded his belt collection by winning both the North American Boxing Federation (NABF) and World Boxing Council (WBC) Continental Americas light heavyweight crowns with an opening-round destruction over Donnell Wiggins on "ShoBox" from Santa Ynez, Calif.
Less than two months later on May 15, 2004, Hoye tallied a fourth-round knockout over Richard Hall in an IBF elimination bout on the Roy Jones Jr. - Antonio Tarver undercard from Las Vegas.  One right to the Hall's left temple ended the fight.
"Hall did not stand a chance when I unleashed my right, which I call The Rico Act," Hoye said.  "I call it that because it is criminal what that punch does to my opponents: it just rubs them out."
Born into a long line of fighters, Hoye literally grew up in a gym, as both his father and grandfather fought professionally.
"I have been around boxing from the time I was born," Hoye said. "From what I have been told, I was brought to the gym in my crib or car seat."
Hoye made his professional debut at age 26 on June 20, 2001, and scored a third-round knockout over Omar Pucci in Warren, Mich.
Hoye's opponent, Griffin (46-4, 30 KOs), of Chicago, was the first man ever to defeat Roy Jones Jr. as a professional boxer.
On March 21, 1997, Jones, the then-World Boxing Council (WBC) light heavyweight champion, won the first round, but Griffin took command in rounds two-four. Jones battled back and got credit for a knockdown in the seventh.
In the ninth, Griffin went down to one knee to clear his head and Jones attacked with a grazing right hand.  Griffin was helplessly looking up to the champion when Jones let loose with a mean left hook to the jaw. Griffin pitched forward face down on the mat. Referee Tony Perez tolled the count and then conferred with commissioner Larry Hazzard before disqualifying Jones. At the time, Jones led narrowly on two of the scorecards 76-75, 77-75, while Griffin led on the other (76-75).
Less than five months later, Griffin lost the rematch against Jones on Aug. 7, 1997.
In his 15th pro start, Griffin earned a 12-round majority decision over James Toney to capture the IBF Intercontinental 175-pound title. Griffin's speed and movement frustrated Toney throughout and allowed him to win by the scores 116-112, 115-113 and 114-114.
Seeger (19-1, 16 KOs), of Savannah, Ga., won the IBA Americas 122-pound belt with a seventh-round TKO over Marty Robbins on Aug. 30, 2003.
In the sixth round, Robbins produced his best moments of the bout by coming forward and attacking Seeger.  However, Robbins went down for an eight count after a punishing right hand landed straight between his gloves.  In the seventh, Seeger's body shots put Robbins on the canvas three more times before the referee mercifully halted matters.
Following an illustrious amateur career, Seeger turned pro at age 22 on April 27, 2002, with a second-round KO over Daniel Amaro.  The pride of Georgia has fought all of his 20 pro bouts in Savannah.
Aiken (11-1, eight KOs), of Forestville, Md., has won 10 consecutive contests since splitting his initial two pro bouts.  The 24-year-old slugger, who has taken on seven out of his past eight opponents in Washington, D.C., has compiled four opening-round knockouts in 12 bouts.
Nick Charles will call the action from ringside, with Steve Farhood serving as expert analyst.  The executive producer of the telecast is Gordon Hall, with Richard Gaughan producing.