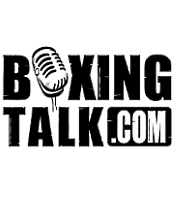 "Chavez is a raging bull, but I'm going to be the matador on May 28th."
Former IBF junior lightweight champ Carlos "Famoso" Hernandez knows that he is in for a tough battle against the always-charging Jesus Chavez.  Neither fighter knows how to take a step backwards, and for "Famoso," May 28th is the day he will have to become the matador against the bullish Chavez.  As part of the dynamic card happening at the Staples' Center with living legend Julio Cesar Chavez fighting in the main event, Famoso has the chance to take the spotlight from his childhood hero, and earn the right to challenge Marco Antonio Barrera for his WBC junior lightweight title.  BoxingTalk spoke with Famoso recently to get his thoughts on fighting Chavez, what a victory against his tough opponent will mean for his career, and why Famoso is hoping his war with Chavez will in no way rival Corrales-Castillo.
BoxingTalk: Carlos, how are things going as you get ready for Jesus Chavez?
Famoso: Great.  I've had a great training camp.  I'm expecting a tough, but clean fight with him.
BoxingTalk: Will this be the type of fight where you start of boxing, but the brawling-side of you kicks in soon after the bell rings?
Famoso: I really don't know.  I don't know how he's going to come at me.  Once the first shots are thrown, that will dictate what kind of style I'm going to use.  It's usually the same thing.  I'll try and go after him.  Chavez is a raging bull, but I'm going to be the matador on May 28th.
BoxingTalk: What is your game plan once that bell rings?
Famoso: Whatever Chavez is going to do.  I'll just counter-attack.  If he wants to box, then I'm going to have to stay on him.  If he comes out strong, then I'm going to have to box.  I'm expecting a couple different Chavez's that night.
BoxingTalk: This fight is a WBC eliminator, which will put you in line to fight Barrera…
Famoso: Yes, and I'd love to fight Morales again too.  I think Morales fought the best fight of his career against Manny Pacquiao.
BoxingTalk: Do you think Morales exposed Pacquiao in that fight?
Famoso: Possibly, I always thought Pacquiao was a good fighter, but I predicted Morales to win.  I actually wanted Pacquiao to win, but I felt Morales was going to win because of his experience, and his smart, technical fighting style.
BoxingTalk: I recently spoke with Robbie Pedan…
Famoso: (laughing) He used to call me up at my home and ask me to give him a shot at the title.  I told him it's not up to me.
BoxingTalk: He mentioned that he would love to fight the winner of you and Chavez.  What are your thoughts on fighting Pedan?
Famoso: Pedan is a great fighter.  I saw his first fight with Nate Campbell, and I know he's a strong guy.  I hope he keeps that title for a while, but if we have to face each other than I don't wish him that.   I'll have to take him to El Salvador and fight him there.
BoxingTalk: If a deal could be reached, would you be willing to fight Pedan?
Famoso: It all depends.  Beating Chavez on May 28th puts me in line to fight either Morales or Barrera.  Those guys are big names, and I'm not saying that Pedan isn't, but these guys have a history, and they attract a lot of attention and money.
BoxingTalk: Will you look at Chavez' fight against Morales as your blueprint to defeat Chavez?
Famoso: I already have, and believe Chavez is a brave warrior for proceeding after the third round after he hurt his arm, and for giving Morales trouble.  People say that Chavez doesn't bring desire into his fights, but he did in that fight.  He lost that fight against Morales, but he lost fighting.
BoxingTalk: That was also the first time I have ever seen Morales get knocked out, and it happened in the first round too.
Famoso: Yeah, I stood up when that happened and yelled, "I'm fighting Jesus Chavez!"  The next round I was saying, "I'm fighting Morales."  I'm fighting Chavez now, and it's a good thing.  I have had the privilege to fight the best in my era like Floyd Mayweather, Morales, and now Chavez .  I've trained very well for this fight, and I expect a "W."
BoxingTalk: Both of you and Chavez have faced Mayweather, but you lasted longer than Chavez did against him.  Does that give you any type of psychological advantage or more confidence coming into this fight?
Famoso: I don't try to look it that way, because he is a new and improved Jesus Chavez.  He's hungry, and I'm not looking at a guy who was stopped against Mayweather.  I'm looking at a guy who is hungry, and who has a chance to be back at the spot where he was and that's WBC champion.  I have to be prepared for the 28th of May.
BoxingTalk: What should we expect from you when that fight begins on May 28th against Chavez?
Famoso: Fireworks.  I do not want a "Fight-of-the-Year" going down in this fight.  I don't want to go through that.  I want to beat the guy convincingly and that's it.  I don't want to make it into a big drama.  That fight with Diego Corrales and Jose Luis Castillo was a heck of a fight, and you have to applaud both those guys.
BoxingTalk: As a fighter growing up watching Julio Cesar Chavez, what is it like for you to now be fighting on the same card that he is?
Famoso: Ah, come on man.  It's a fighter's dream.  I watched him before I turned pro, before I even started fighting.  Everyone is going to feel that electricity in the arena that night at the Staples' Center.
BoxingTalk thanks Famoso for taking the time to speak with us.  We wish him continued success both in and out of the ring.
Send questions and comments to: Fool4Rush@aol.com