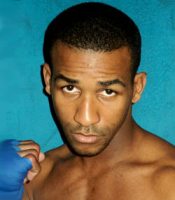 Greg Leon: What's the latest and greatest Rances? When can we expect to see you back in the ring? Rances Barthelmy: "I'm good, I'm good. As everyone knows in my last fight, I had a draw and I know that it wasn't most exciting fight in the world, but I feel like I did enough to win the fight. I'm still the number one contender for the title and I plan on fighting Robert Easter Jr again in a rematch for the [vacant IBF junior welterweight] belt." GL: Nobody wants to see this rematch. Can the rematch be anything other than just another very boring fight? RB: "Sometimes things play out differently in rematches. I think both me and Easter know we have to do more, we know what's on the line and I think we're both competitors. Our styles were weird that night but you've seen my fights with Denis Shafikov and Mickey Bey. I'm always in exciting fights, styles make fights and I know one thing, I want to be world champion and I feel I already should be. I'm just going after my world title and if it means I've got to fight him again for it then that's what I'm going to do."
GL: How frustrated are you with yourself that you didn't do more the first time around? Now you've got to fight him twice to clearly walk away with the title once.
RB: "I was frustrated because I obviously know I could throw more punches. That's not a debate, but when you're not in the ring with somebody punching back you don't understand. You have to know what it's like to be in there with somebody that doesn't want to engage you. It makes it hard for things to open up and it takes two to tango. I don't think either of us are proud of that performance and we're going to go into the rematch with something to prove."
GL: Is there any indication as to when the rematch will take place?
RB: "Not yet, but I'm back in the gym and I'm just waiting for the call so I know when I'm getting my belt. It's always been a dream of mine to get the WBA belt. The WBA has always supported the Cubans and that's a big reason why I came over here to fight for this belt."
GL: Your brother Leduan is in action this week against Jose Cayetano. What can we expect to see from him this weekend?
RB: "He's been working hard and he's going to give you guys a great show. He's fighting a tough Mexican that's been in there with Santa Cruz and Quigg. He's been active again and I think that's what he needs for his career to take off. I think he can give anybody a run for their money in the featherweight division."
GL: Closing thoughts.
RB: "I apologize to the fans for my last performance. This is boxing and sometimes things go down that way, don't knock me off one fight. Everybody knows me from exciting fights and I just don't want all the fans to judge me off one fight. The rematch will be better."
Send questions and comments to: boxingtalkg@yahoo.com