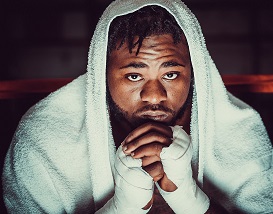 Greg Leon: Congrats on your victory over Rydell Booker. Can you give us some thoughts on your peformance? Jermaine Franklin: "I think I performed decently. I feel like I could have performed a lot better, but I was making a lot of little mistakes that prevented me from capitalizing the way I want to, but I can't complain because at the end of the day I got that dub and that's all that matters." GL: Did you feel any extra pressure fighting in front of your first National audience? JF: "I wasn't really nervous, but for some reason I was real tight. I don't know if that counts for me being nervous of not but I was tight and I was over extending myself with my punches. I feel like I had an alright performance because I didn't get to showcase my skills, I was only fighting one way."
GL: The plan was to get Booker into the deep waters and drown him, you got him to those late rounds but didn't finish. Did his durability surprise you? Was there anything about Booker that surprised you?
JF: "He was countering good and he knew how to downplay my attack to make it not as lethal. When I was coming at him in spurts and trying to catch him he would downplay it to where I couldn't really hit him how I wanted to. He kept me at bay to where I couldn't work the way I wanted to and I made it even harder on myself by being overly anxious. It was kind of like I was fighting him and myself at the same time."
GL: What do you think you need to tighten up moving forward?
JF: "The space. It's a big thing for me to be able to stand tall. Being overly anxious had me throwing too many power punches right on top of him and it was sloppier than I wanted it to be. I've got to work on keeping my range a little bit better."
GL: You went the ten round distance with Craig Lewis in your fight before Booker. How much did that experience help you mentally in the later rounds of this fight?
JF: "It was very important and it gave the confidence to know that I could do it. It was important for me to know how that felt before this fight. It's not possible to stop everybody in this sport and that was my mentality going into the Lewis fight. It's still kind of my mentality but I'm going to work on everything that needs to be sharpened up."
GL: Why were you 18 1/2 pounds heavier than you were against Craig Lewis?
JF: "It was the layoff and the things I was dealing with on a personal level. I only had a five week camp and I got down to 245 after the camp, but I'll definitely be lighter the next time I get in there."
GL: What do you plan on coming in at?
JF: "225-230, something like that. I was still in shape, but with such a short camp everything was kind of rushed."
GL: Any early indication when the next one might be?
JF: "It could be July 12th, but it's not confirmed yet."
GL: What did you think of Claressa's performance with Hammer?
JF: "She looked awesome and kicked ass. Hammer did what she could, but Claressa is just a different breed."
GL: It's your job to fight whoever they put in front of you, but who do you want to fight next? Who do you feel would be a great fight for you to take yourself to the next level?
JF: "This was supposed to be my coming out party, but I didn't get to make the statement that I wanted to. I'd like to fight somebody who could really fight like a (Adam) Kownacki or Charles Martin. I want to show the world what I've been talking about. I don't want to be taken lightly, I'm a perfectionist so when I see something I don't like I'm going to go back and work, and work, and work on it until I get it how I want it."
GL: At times you were a little sloppy and over-reaching...
JF: (cutting in) "Badly man, you seen that. I was getting so frustrated at myself because I wasn't able to land the combinations how I wanted to."
GL: Did he ever hurt you or buzz you at all?
JF "No, I was never hurt. I was just more frustrated than anything. I wasn't close to being hurt, I can take punches. I know I can do a lot better than what I showed and even though everybody is telling me I did my thing, I didn't do it how I wanted to. I know what I can do and I didn't show anywhere near my best the other night. I was trying to touch him with the jab and it wasn't really working for me like that, so I got frustrated after the second round and abandoned it. The two biggest things my coach told me is I've got to stay positive and stay calm."
GL: When are you back in the gym?
JF: "This week, I'm not playing."
GL: How important is it for you to stay active moving forward?
JF: "It's very important, especially after seeing the detrimental effects of being out of the ring for too long. That's definitely not going to happen again. I really don't struggle with weight at all and this big layoff set me back a bit because I had to work twice as hard just to get in shape. It's a difference between active and working out."
GL: Closing thoughts for the fans.
JF: "I'm promising the fight fans right now the next time y'all see me it's going to be a way better show. I learned a lot from that fight and I'm going to put on a great show for y'all in my next fight."
Send questions and comments to: Boxingtalkg@Yahoo.com