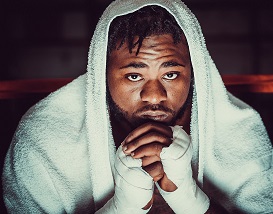 Greg Leon: How's everything going in preparation for your July 12th bout versus Jerry Forrest? Jermaine Franklin: "Everything's going good, I've been watching my first fight a lot. I've been correcting some mistakes, being a student of the craft. I've been studying some people Chico (Corrales), Andre Ward. I'm a big fan of Andre Ward. I've been studying a lot and working on my mistakes in order to have a good performance." GL: How do you feel about headlining on Shobox? JF: "Man it feels good honestly! Its a hell of an experience, it's life changing, it's a real humbling experience. This is my second fight on TV and I'm already headlining a card, I'm very excited about it and I can't wait to show the people what I can do. I know I said that last time, and the cameras might have played a part a little bit, I don't think they did, but they could have. This time I'll be more subtle, more focused and I won't be tight or distracted with anything."
GL: Going into the last fight you were out for nine months and took it on short notice right?
JF: "Yes."
GL: So this time you're supposed to be in rhythm.
JF: "I am, I'm feeling strong as hell right now."
GL: What do you know about Jerry Forrest?
JF: "I don't know too much, I've watched some tape on him. I know he's left handed and we're about the same height, it's not like one of us has the edge by an inch or two. He's real stand up when he fights, he's no angles, I didn't see a lot of turns to his game plan so he should be easy to hit."
GL: Do you feel any extra pressure to be impressive in your first main event?
JF: "I always feel like I need to be impressive, I think in my first fight I was so star struck on trying to be impressive and trying to show the people what I can do. I think I got out of my game plan, because I was so focused on trying to look good that I got outside of my element with how I fight. This time I'm still trying to put on a great show for everybody, but I'm going to sit back and fight my style. I'm not going to rush it or try to just go for a knockout or something, I'm going...
GL: (cutting in) You're just going to be yourself.
JF: "Yeah, just be myself and try not to put too much pressure on myself before the fight, just stay level headed and treat it like it's any other fight."
GL: Is he going the distance?
JF: "Naw! The way I feel right now he's not going the distance."
GL: Closing thoughts.
JF: "I just want to tell the fans to tune in, stay tuning in, I've got big things coming. I'm headlining this fight at the Emerald Queen Casino in Tacoma, tune in on Showtime, and you're going to be seeing some bigger fights from me later this year. I'm really banking on next year being my year!"
Send questions and comments to: Boxingtalkg@Yahoo.com