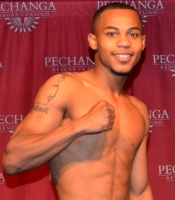 Greg Leon: Congrats on your shutout victory over Vicente Martinez [9-5]. Can you give us some thoughts on your peformance? Jarico O'Quinn: "It was a decent performance. I'm my worst critic, I'm harder on myself than everybody else, so I know I did good, but I wanted to do a lot more. I wanted to get the stoppage, but it was a good win. It took me to the eighth round and I shut him out on all of the cards, but getting those rounds was very important. My conditioning wasn't a problem, I wasn't breathing hard or anything so now it's on to the next oe." GL: So after that last round you still felt like you had a lot of gas left in the tank? JO: "Plenty."
GL: Is there any early indication as to when you might come back?
JO: "It could be real, real soon, but I have to sit down with my team and go over all that. I want to be back in the ring as soon as possible."
GL: Was there anything about Martinez that surprised you? Did his durability surprise you?
JO: "I didn't get to connect with the right hand the way I wanted to. I wanted to land some flurries that I could really sit down on, but I just beat him off the jab and the hook. I don't feel like I really connected good, but he was an awkward guy and when he got hit with the left hook he knew he didn't want to see the right hand. He did what he had to do to survive and not get hit."
GL: What did you think about the way Claressa showed out?
JO: "I thought it was an excellent performance, I told people she was going to shut her out. I thought she was going to stop him and I think she pushed for it. She was just better in every aspect. She was smarter, stronger, faster, she was just better in every way."
GL: Did you have any extra butterflies going into the ring on such a major card?
JO: "I don't get stage fright and even though I got the good done and got a big win, I feel like I let myself down a little bit. I really wanted to get that guy out of there and I let him make it to the cards. Going the distance was a plus, but I wanted to give the fans a more exciting finish."
GL: Do you feel you did enough to make sure your next fight is part of a Showtime (Shobox) telecast?
JO: "I think so and I know that if they want to see me perform at my best they need to put somebody better in front of me."
GL: Do you feel ready for that step-up now?
JO: "Yes. I would like to fight somebody who's going to be more interested in fighting. I really want to fight bigger people."
GL: Closing thoughts for the fans.
JO: "Y'all got to see a little more skills, y'all got to see some head movement. Y'all got to see a tad bit of my slick side, but there's a lot more to come and I'm going to keep showing you guys more with each fight. I've got power I'm going to be showing you guys the power soon, so keep on supporting me I fight for y'all."
Send questions and comments to: Boxingtalkg@Yahoo.com