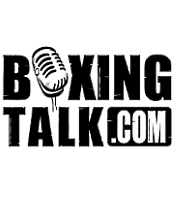 1) For all you Game of Thrones fans, you should know that boxers are the knights of today. They are our champions. Boxers can be cast into a realm of seven hells, and somehow still maintain the will to fight their way out. It's not simply the physicality that we love, it's the emotional courage to battle back after being all but beaten. Boxers give us commoners hope – the hope that one day, when we are facing our greatest emotional battle, that we too can have that level of courage.
2) When work is tough and you absolutely need to take five, just remember that boxers can't. They are reminded of that every time they get punched in the face.
3) I found it interesting that after the very first round of Maurice Hooker's WBO junior welterweight title defense against Mikkel LesPierre, his corner asked him if he's OK…after one round – as though something was specifically not OK. Maurice then needed his coach's arm to rise from the stool. I remember thinking, "Maurice is done; he had an issue with making the weight. His trainer Vince Parra knows him better than anyone, and here he is asking if Maurice is OK before the fourth minute of the fight. He's in against a guy in LesPierre who does not know yet how to lose, and with Maurice not being 100%, this isn't a sport where you can fake it." But Maurice didn't fake it. Not only did he not quit, he didn't even lose. And he won in dominating fashion. It wasn't close. I will say this though, while Maurice's determination to answer the bell every round was stronger than my determination to spend 15 minutes on the treadmill will ever be, it's a good thing he wasn't facing a killer who knew how to go to the body.
4) On that note, how was LesPierre aiming for anything but Hooker's body? He was trying consistently to reach the taller man's head. Why? Even if Hooker was 100%, shouldn't LesPierre's plan have been to absolutely live in the body and chop him down like a tree? I've never boxed, and I am not going to pretend to know how. Can someone explain to me why it is more difficult to go to the body against a taller man? Seems like it would be easier, while simultaneously staying inside the reach your opponent's longer arms. Boxers/trainers, enlighten me.
5) Great quote from DAZN commnetatorr Chris Mannix upon hearing that fellow commentator Sergio Mora basically praised Joe Smith's blatantly illegal flip of Dmitry Bivol off his back in a clinch. Mannix said, "You're pro-body slam?" Mora chuckled and responded that he wasn't, but he is all for "trying something" when nothing else is going his way. I understand both points of view. I admire Smith trying to change the dynamic of a fight whose tide was against him. Fouling is a result of frustration. People like us get frustrated. My champion is one who is gallant and chivalrous in his determination to overcome adversity. In short, I love boxing because I see boxers do what we can't do. If I had the talent Bryce Harper has, I'd swing a baseball bat. But if I had the talent that the top boxers possess, would I fight? Probably not. We love boxing because we see individuals that don't lie down when things are tough. But when trying to change the tide means committing a foul? I am not for that. Consider me anti-body slam.
6) If you read my last journal, you know I fantasize about bringing back fifteen-round fights. When Dmitry Bivol was rocked by Joe Smith late in their WBA light heavyweight title fight, I thought, "Good thing for Bivol that this one is only twelve rounds." Funny thing is, not only would Bivol not have lost, it appeared that he didn't even need three more rounds for a knockout; three seconds more and he might've done Smith in.
JUSTIN'S MAIL BAG
Two great emails sent to me last week:
Justin, I'm for the return of fifteen-round fights. My thinking is this. I'm not a pro boxer and therefore wouldn't have to go fifteen rounds so I'd be relatively unharmed by the change. It would give those fights that needed an extra round or two an extra round or two. (see Tim Bradley vs. Jesse Vargas). It would also give more of a chance to see the most taboo of boxing outcomes- the guy who quits. It could also make for more entertaining front half fights where the guy who knows he can't hang for fifteen will try to end things early. Another added benefit is it might normalize a sh*tty judge. The longer the fight lasts the less impactful a badly called round or two becomes if it goes to the scorecard. Con: bad fights that never end. –Mad Max in Vegas
My response: Amazing points, Max. The best way to normalize a sh*tty judge is to fire him (or her). But alas, as long as we have humans dictating the decisions, there will be flaws. It's not to say that I want computers judging fights either though - far from it. A boxing match displays all the best that the human condition has to offer (save for body slamming). We should have humans translating that action into a score (one that is not an embarrassingly simple 10-9). So while a byproduct of extending a fight's duration will indeed put less emphasis on a close round won 10-9 by the flip of a coin, my Devil's Advocate says it will also open the door for 3 more rounds won or lost by the flip of a coin as well.
***
I don't usually respond to articles after I read a writer's opinion. I have been a boxing fan for a very long time. You said, "He doesn't owe us anything. He's not performing for our benefit." Well maybe technically he doesn't owe us anything. But the boxer does owe the boxing fan the courtesy to show up and box and not just show up for a paycheck. We the fans pay the boxer's salary by buying tickets to the fight or subscribing to a channel or streaming service to watch boxing. Without us he doesn't have a job!!! Boxers who do what Bermane Stiverne did should not be paid!! And that is my opinion --Duane
My Response: Duane, you make compelling points. I don't disagree with anything you wrote. However, if a boxer shows up as Bermane Stiverne did a few weeks ago, then he will indeed reap what he has sown. Yes, he will still be paid for that night's fight, but how many more chances do you think he'll receive now from the networks on their air? My guess is none. So while I agree with you in that it's a shame when a fighter forgets to pack his heart, I still don't agree that he's a disgrace necessarily. At the end of the day, he only has himself to answer to, and it's not up to me to judge him. I don't have to like what he did, I don't have to like him as a fighter, and I can choose to vote with my dollars and not watch him ever again. But I stand by my claim that he, or any boxer for that matter, doesn't owe me anything.
Send questions and comments to: BoxingtalkJ82@yahoo.com