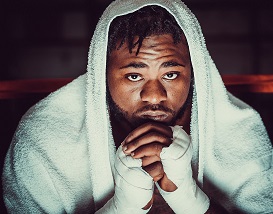 Greg Leon: How has everything gone in preparation for your April 13th bout with Rydell Booker? Jermaine Franklin: "Everything has been going good. I feel strong, I'm confident and I'm really looking forward to showing the world what I can do." GL: What do you think about Rydell Booker as a fighter? JF: "Booker is a decent fighter. I think he can fight and I think he's going to come and try to put on a show, but he's had his run and it's time for the new guys to take over."
GL: What have you been out so long?
JF: "I was dealing with a lot of personal matters. I've had a lot of deaths in my family and I don't like to fight unless I'm 100% there and there's just been a lot going on and stuff, so I had to take some time off and get back into the right space."
GL: And when do you feel you got into the right space to where you knew you'd be 100% ready to get back?
JF: "Honestly about a couple of months ago. Over these last six months I've probably had seven deaths in the family and the last one was my grandfather. I was talking to my family and they were just pushing me, like my family would still want me to be doing my thing and they wouldn't want me to be sad and moping and stuff. I had to get myself together and everybody in my family pushed me in the right space."
GL: Booker has never been stopped. Are you looking to make a statement and become the first to do it?
JF: "When I go in there I don't look for the knockout. If it happens to come, I'll most definitely take advantage of it and get you out of there though."
GL: Do you plan to take the heavyweight division by storm? You're a very talented fighter, but you're very under the radar at 25 years old. Are you looking to surprise a lot of people starting April 13th?
JF: "Yes I do. I plan to take everyone by surprise because you said it right, I'm under the radar but when they see me they're going to be shocked. I'm coming and when I'm coming I'm like a train so I don't think there's going to be anybody who could stop me."
GL: What do you think of the current state of the heavyweight division?
JF: "I think it's alright. I think some people need more fights. In boxing it's hard to get bigger fights because most of the bigger guys are all looking to fight each other. It's where we're going to have only three or four heavyweights that most people will see because they only want to fight each other and nobody else, but there's other guys out here who can put more torque on the heavyweight division."
GL: Who do you think won the Wilder-Fury bout?
JF: "I thought Fury won that fight, but Wilder secured the draw with the knockdown in the last round maybe. I like the way Fury fought he looked good. A lot of people don't like the way Fury boxed, but I'm a big fan of boxing and that was some good boxing right there."
GL: What do you think about AJ and Miller?
JF: "I think that's going to be a good fight actually. I kind of like AJ because he's a puncher and I like guys who can punch. For him to be a heavyweight he lets his hands go and he gives entertaining fight. I think Jarrell Miller is slept on though."
GL: I think so too, that's a lot of man to be leaning on you if you can't get him out of there.
JF: (Laughs) "Exactly! And we all know how that wrassling game goes when you've got somebody laying down all their weight on you in the corner. He's just wearing guys out and there's a lot of tactics in boxing that a lot of people don't understand, but that's going to be a nice challenge for AJ."
GL: How did you and (Dmitriy) Salita first link up?
JF: "I've known him for a while, but we just linked up recently because the opportunity was right and we had some chemistry. We talked some busines and it just made sense."
GL: How do you feel about fighting on the Shields-Hammer card?
JF: "I'm excited because this is the first time I'm going to get to fight on TV and I'm going to get to showcase my talent...And then like Claressa, I've been to her gym and I've seen all of the hard work she puts in and I'm a fan. I ain't going to lie, I'm a fan. To be on the same card with her and see her fight I'm just happy to be on it."
GL: Do you feel any extra pressure to really make a statement in your first televised action?
JF: "I honestly don't feel no pressure. I'm a cool humble guy, but when I get into the ring I turn into a whole different person and I really don't see nobody when I'm in the ring. There's only me and him in there and the only voice I'm listening to is my coaches. I barely hear the crowd and the lights won't bother me because at the end of the day it's only me and him in the ring."
GL: Other than victory do you have a prediction?
JF: "I'm trying to get him out there. We've got ten rounds, I'm going to try to get him out of there in at least eight. I'm looking to make a real statement."
GL: Closing thoughts for the fans.
JF: "Tune in on April 13th. It's going to be a great show, I'm a warrior and I'm going to show you how the 99 assasin do."
Send questions and comments to: Boxingtalkg@Yahoo.com