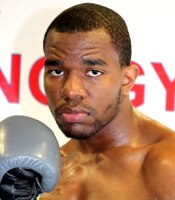 Greg Leon: What's the latest and greatest man? You know I hear things from time to time, when can we expect you back in the ring? Jesse Hart: "I see you on Boxingtalk Greg, so I know you're in the loop. (laughs) It looks like I'm going to be fighting in June, I'm going to be making my light heavyweight debut and it could be on the Tyson Fury card." GL: And do you have any idea who the opponents going to be? "It's going to be a big name, that's all I can say."
GL: A big name at light heavyweight like [ex-WBO champion] Eleider Alvarez?
Jesse Hart: (laughs very hard) "Wow! I can't answer that, but that's a helluva name there."
GL: I know you can still make 168 without issue, why are you looking to test the waters against a top light heavyweight out the gate?
JH: "I think it's smart. The opportunity is up there and I think in a year or two my body can really mature into something special up there. Right now I can make 168 with my eyes closed, but I think there's a lot of opportunity at the light heavyweight division for me. My promoter (Top Rank), has three of the four champions. They've got [IBF champion Artur] Beterbiev, they've got the other kid who beat Stevenson [WBC champion Oleksandr Gvozdyk] and they got [WBO champion Seregy] Kovalev. Bob Arum has all the top light heavyweights and there's going to be a lot more opportunity, so I figure why not take a shot?"
GL: We never got you on Boxingtalk after the Zurdo [Gilberto Ramirez] rematch. How do you feel about it? How did you deal with losing a fight by one round to the same guy twice?
JH: "When you look at that, a one round, one point difference. The first fight I could handle, but the second fight, and people might say I'm biased, but I didn't get knocked down and I fought the whole way through. One judge had it a draw and I could handle that, but it was either I won or it was a draw. When you really look at it, I won the fight. I've watched it a thousand times and I don't see where I lost."
GL: If you're successful at light heavyweight would you ever return to super middleweight?
JH: "I don't know, but I have that option. My body hasn't fully matured into a full light heavyweight and I'll have to play the cat and mouse game. They might have to come to me to get me, I'm going to play the Bernard Hopkins game with the craftiness, the slickness. When Bernard was at light heavyweight he didn't fight those guys, they were physically bigger than him, but he outsmarted them. I saw him walk into the gym before the fight at 172. I've got be smart and crafty in there like he was to be successful. My mental game has to execeed my physical game up there at light heavyweight.
GL: I expect there will be some announcements in the coming weeks, let's talk again then. In the meantime closing thoughts for the fans.
JH: "Big news is coming. In June I will be fighting at light heavyweight against a big name, stay tuned."
Send questions and comments to: Boxingtalkg@Yahoo.com