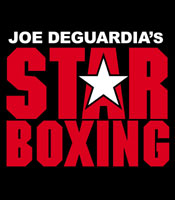 Cletus Seldin TKO11 Zab Judah... After defeating Zab Judah, Long Island, New York junior welterweight Cletus Seldin (24-1. 20 KOs), Seldin's promoter Joe DeGuardia is already planning his next fight. "It's all about timing . . . [Seldin] just fought a [two-division] champion, and we won't find another name that big, even with the current champions. We want to keep him busy." DeGuardia then joked, "Cletus has already asked to fight again at our June 28th show." As reported below, Judah suffered a subdural hematoma after Seldin stopped him in round eleven. Judah's career is over at 44-10 with 30 KOs). Over the eleven rounds, Seldin threw, on average, over one hundred punches a round. From the opening bell, Seldin pounced on Judah and did not relent until the ref called a stop at 1:40 into the eleventh round. At the time of the stoppage Seldin was pounding Judah against the ropes.
According to Seldin, this was all part of the plan, "I knew I was in control from when the first bell rang . . . I am very awkward to fight, and my plan was to keep him off guard, and try and bring the fight forward," and forward he clearly did, for literally every second of every round. The style was intoxicating to boxing fans and experts watching the fight who were astonished at the pace and pressure of Seldin.
Seldin implemented a crouched, bobbing and weaving, come-forward style. Multiple times over the eleven rounds, Seldin turned southpaw, to keep the dangerous uppercut of Zab Judah at bay. In the third round, Seldin left Judah on unsteady legs after a right hand landed clean. Judah was able to tie up and survive the round. Judah attempted to subdue Seldin's attack but found himself in survival mode for most of the fight as Seldin literally smothered him with continuous punches.
"We wanted [Seldin] to come out very fast in the first two rounds, like a bullet. Judah is a great fighter, but we knew down the stretch Seldin would have the advantage..." said one of Seldin's trainers, Scott Lopeck at the post fight press-conference.
Seldin concluded, "This was a big opportunity for me. I love 12 rounds. I want to fight those championship rounds. I want to fight those championship fights." This career defining win occurred within those championship rounds, and Cletus Seldin is ready to take the next step in his ultimate goal of becoming a world champion. source: star boxing